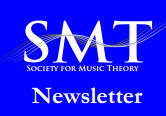 The SMT Newsletter is posted online in February and August. The Newsletter features information on national and regional theory conferences, awards, calls for papers and articles, grant and fellowship information, and general news about people in the field.
Get the most recent Newsletter.
Previous issues are located in the Archives.
Please e-mail your contribution to Jared Hartt (newsletter@societymusictheory.org) as an unformatted Microsoft Word document. If you include hyperlinks, please test their accuracy before submission. If a photograph or graphic image would enhance your article, please obtain and provide any necessary copyright permission or attribution and contact the editor prior to submitting it. Inclusion of any article is subject to the approval of the Executive Board.